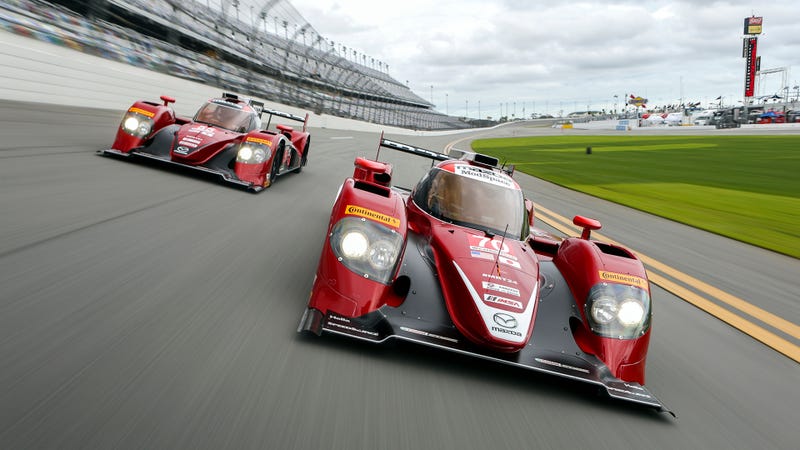 Unlike carmakers who in recent years have been trying to buy their way into racing, Mazda has been a track fixture for a long time — the company turned the ignition on its first race car way back in 1968. Since then, an incredible array of Mazdas have burnt rubber, spit fire, and taken the checkered flag all over the world, from Daytona to Le Mans. Driving matters to Mazda, and so does racing.
Equally impressive is the grassroots appeal of the MX-5 Miata. According to data from the Sports Car Club of America (SCCA), Mazda enjoys an impressive 58% market share among vehicles raced in grassroots clubs. Simply put, people who race on the weekends race Mazdas. With that in mind, here are the 12 coolest race cars from Mazda's half-century of motorsports history — including one that debuts this weekend at the Rolex 24 at Daytona.
Gatorade RX-3
The Mazda factory team made its first try at Daytona in 1978, with a pair of Gatorade RX-3s driven by two teams, one American and one Japanese. Though the teams didn't do so hot (DNF and 11th), this was where the relationship with Daytona that ultimately delivered 23 class wins was born.

RX-2
The RX-3 might look little by today's standards, but its predecessor, the RX-2 of the early 1970s, was even smaller. This particular RX-2 scored Mazda's first professional race win in North America in 1973.
Lola T-616
Driven by John Morton, John O'Steen, and Yoshami Katayama, this was the first race car with a Mazda engine — a 13B rotary — to capture a class win at 24 Hours of Le Mans, in 1984, winning the Group C2 honors.
Malibu Grand Prix Mazda RX-7
None other than the famous Malibu Grand Prix Mazda RX-7 that dominated IMSA GTU competition throughout the 1980s. The winningest pro Mazda race car in the world.
Mazda 787B
In 1991, the 787B became the only Asian car ever — and the only one with a rotary engine, to boot — to win an overall victory at Le Mans. Has to be heard to be believed.
GTO Mazda RX-7
While the Japanese "factory" were off winning Le Mans, Mazda in the U.S. and Pete Halsmer were busy taking this fire-breathing beast to the IMSA GTO Championships — and the RX-7's 100th IMSA victory. Interesting note: This 650hp car's wheelbase is almost as wide as it is long, making it a real handful to drive.
Mazda RX-792P
Hands-down the most beautiful car Mazda has raced in the U.S. The 750hp RX-792P was Mazda North America's answer to the banning of rotary engines from international competition after 1991.
Mazda RX-8

SpeedSource has been racing Mazdas for 20 years, including the RX-8 era of Grand Am GT competition, from 1995 to present. During that time, the delightfully loud RX-8s — which spit flames when conditions are right — have won twice at Daytona and even secured the Grand Am Team Championship.

Mazda6 SKYACTIV Diesel
Powered by sustainable diesel made from meat-processing byproduct, the Mazda6 SKYACTIV Diesel, built on a modified RX-8 chassis, was a thing of beauty. Sadly, after just one season (2013), the GX class was abandoned. Following the AMLS/Grand Am merger, the car had nowhere to race, and was retired after winning the 2013 Manufacturers' Championship with nine victories.
IMSA Prototype
Making its race debut this weekend at the Rolex 24 at Daytona is the IMSA Prototype, sporting a brand-new, gasoline-fueled MZ-2.0T engine. "The drivability of the engine is incredible," said Jonathan Bomarito, who, along with Tristan Nunez and Spencer Pigot, will be piloting the No. 55 car, numbered in honor of the 25th anniversary of Mazda's Le Mans victory.
2016 Battery Tender MX-5 Cup Car
Really cool concept: All of the MX-5s racing in the Battery Tender Cup entry-level pro series are built by one Mazda-appointed builder. The best part? You can buy a complete track-ready car (minus a race seat) for a cool 53 grand. That's less than the lunch budget for other pro series.
Virtually Any Spec Miata
Last but not least is any spec Mazda MX-5, the most road-raced car in the world. Fields of 60 to 70 cars are the norm at the SCCA National Championship Runoffs or the SCCA Chicago Region's June Sprints, and everyone out there has a reasonable shot at the front. Truly the antithesis of the buy-a-ride, rich-kid, trust-fund racing that is prevalent throughout motorsport.
Hunter Slaton is the Content Director for Studio@Gawker. He learned to drive in a stick-shift 1988 red Mazda 323 hatchback.
Malibu Grand Prix Mazda RX-7 image courtesy Marshall Pruett.
This post is a sponsored collaboration between Mazda and Studio@Gawker.